Axis of Events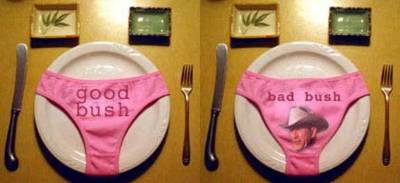 The
Axis of Eve
, which you may remember from a
prior post
, is now in NYC for the RNC protest season.
Upcoming Eve-nts
include:
08.24............AmBush
Van Brunt Gallery presents an exhibition of anti-George W. Bush works by prominent and emerging artists. Axis of Eve will feature video footage of our flashing protests, panty creations by creative fashionistas, and performance pieces. Reception from 6-8pm (exhibit up through SEPTEMBER 18), van brunt gallery, 819 washington street,
www.vanbruntgallery.com/nyc
08.24............East Village Welcomes the RNC: Howl Festival
A night of political cabaret, activist tabling and all-out rave is how the East Village and Lower East Side will welcome the Republican National Convention to New York. For more info and advance tix visit www.howlfestival.com! Closing Night Festivities, 8pm (Doors at 7pm); $10, Webster Hall, 125 E 11th St (between 3rd and 4th Aves).
08.28............CODEPINK Women Against War Event
CODEPINK, Women for Peace, Global Fund for Women, and the Global Justice and Peace Ministry of The Riverside Church have invited Axis of Eve to an evening of music and spoken word to celebrate women's passion, creativity and strength in saying no to war and yes to peace and justice. Featuring Playwright/Performer Eve Ensler; Democracy Now! Host Amy Goodman, Hip-Hop Performance Poet Aya De Leon; Former Congresswoman Cynthia McKinney; Singer-Songwriter Noe Venable; and the young women of We Got Issues! As thousands of Republican National Convention delegates begin to arrive in New York City, let's send a message to the RNC - and to the world - that the women of the United States are determined to work for a world based on non-violence and respect for all human life - not the war, militarism and aggression that have underpinned U.S. foreign policy since Sept. 11, 2001! Riverside Church, 490 Riverside Drive, 7-10 PM, http://www.codepinkalert.org
08.29............United for Peace and Justice March
Walk with the Axis of Eve at the historical United for Peace and Justice March! We'll be wearing our tank tops and protest panties (some over bare legs, some over tights, some pinned over clothing), and carrying giant panty signs made of colorful cardboard and our infamous "dirty laundary line" banners. We are sure to make a pantastic spectacle! DETAILS: The march starts at 10 AM at 14th street and 7th Avenue; Eves will convene between 9:30 AM and 9:55 AM at the corner of 15th street and 7th Avenue.
09.01............Panty Performance Protest at the RNC
Axis of Eve is calling upon women (and men!) from all over to join us for a flashing event at the Republican National Convention in NYC.
Go to
their site
for more details.