Axis of Eve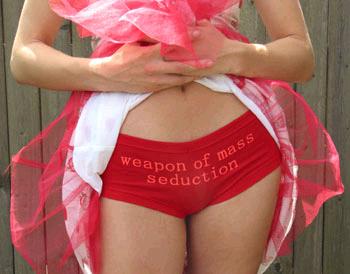 Axis of Eve

The Axis of Eve makes and sells sexy and funny "protest panties" and plans to engage in a "shock and awe" campaign of panty-flashing "to lay bare the shameful tactics of the Bush administration and boldly demand an end to political cover-up."
At the Republican National Convention in NYC in September, they promise to create a media spectacle "b(e)aring messages of truth, accountability, and peace."
Buy some now.
Available panties: Thong, bikini, boyshort
Notable slogans: weapon of mass seduction, my cherry for kerry, cream bush
Also available: Tank tops, baby onesies, boxers
All sweatshop-free by american apparel, of course.
P.S. As a side-conversation about something not really about panties, note Bella DePaolo's cool article arguing that panties and cute slogans just diminish the seriousness of the issues that single women face-
Ditching the Lipstick-and-Panties Pitch
: "The lipstick and panty pitch trivializes and caricatures the very people liberal-leaning activists are out to recruit. To begin with, single women are not all nightclub-hopping twenty-somethings; two-thirds of them are 30 or older. And even those who are young have more pressing concerns than their panties. These women skew toward the lower end of the economic spectrum and are often single moms. They are more worried about making a decent living, having affordable health care and providing for their retirement than missing their manicure."